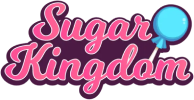 Sugar Kingdom
https://www.sugarkingdom.io/
Sugar Kingdom is a fantastic free-to-play match-3 game with Metaverse features. You can earn $SUGAR, buy and explore NFTs, buy card boosters, and get limited characters to use within the platform to compete with other users.

The game is suitable for all ages, and is gender neutral. Sugar Kingdom wants to democratize access and distribution of crypto games, creating a concept that not only challenges blockchain games, but also defies traditional games. Sugar Kingdom is owned by Apes International Group Corp.
Highlights

Addictive and immersive
Players are the real owners of the items inside the game, and they are able to exchange them with other players and obtain real, attractive and significant rewards according to their total play time.

Challenging, yet rewarding
The game ensures a familiar, fun and addictive experience, which is already validated by users of all ages and from all countries. At the same time, it represents a unique opportunity to explore new financial opportunities.

Open for everyone
Sugar Kingdom's value proposition consists of a free trial model, with an easy-to-learn, exciting gameplay, strongly oriented towards the user. It does not force users to spend many hours a day in front of the screen.

Fair and organized
While most of the games do not integrate their internal economy efficiently, Sugar Kingdom's economy is regulated by professional management, through the use of simulation software.

Popular and user friendly
Sugar Kingdom runs on Binance Smart Chain - the most influential network in the gaming world, with an exponential and sustained growth in the amount of users who interact with gaming protocols.
Documents
Core Team
Sugar Kingdom is flourishing under the watchful eye of professionals strongly committed to technological innovation. Sugar Kingdom's team works overtime to create decentralized applications with a great impact on the ecosystem.
OUR PARTNERS